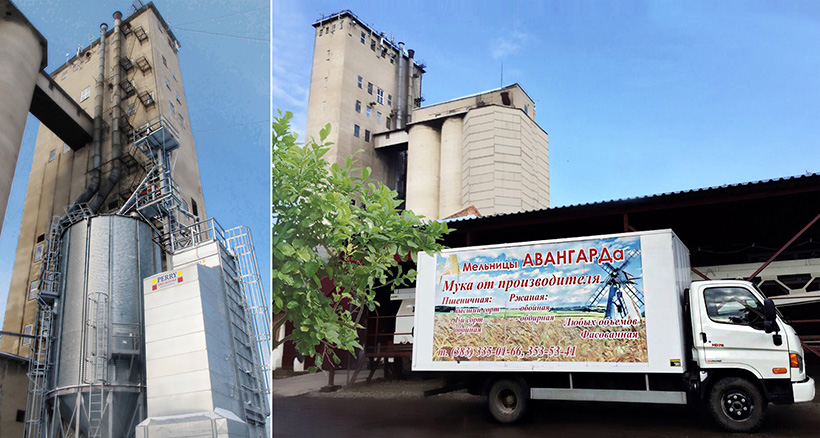 Flour stock company Avangard takes a/the leading position on the market of wheat and rye flour in Novosibirsk and the Novosibirsk region.
The advantage of the mills of Avangard is a wide range of flour at state standards and, moreover, production of specialized product which corresponds to the particular requirements of the customer. Today Avangard offers more than 10 kinds of specialized flour and also bran and other grain products.
Current production facilities allow for the processing of up to 150 tons of wheat and rye per day.
JSC Avangard was established in 1992 through the privatization of the experienced and innovative flour grinding production plants of the All-Russian Scientific Research Institute of Grain.
The pride of JSC Avangard are its highly qualified experts who have long-term experience in the flour industry. Thanks to our employees, production at JSC Avangard is stable and of an exceptional quality, which is attested to by numerous awards received over the past 20 years in various competitions.
Today JSC Avangard delivers rye and wheat flour to the baking enterprises of the city and the region, including Novosibkhleb, Berdskiy, Inskoy, KDV Group, Voshod, and other medium and small bakeries. Moreover, the production of the enterprise is being delivered to the eastern regions of Russia, such as the Irkutsk region, Sakhalin, Kamchatka and others.
JSC Avangard" is a member of the Russian Union of Flour and Grain Enterprises.
The enterprise is located in the Kirov district of Novosibirsk city in a developed industrial-trade area. Along with the production activity of flour and bread, JSC Avangard is planning to take advantage of its location and land area (about 5 hectares) to develop manufacturing and warehousing, and an office space complex in 2017-2020's.
Avangard dynamically develops and invests its profit in new technologies, equipment renewal and construction.